Fern(Mi) report
Posted 09-08-2004 at 11:47:26 [Reply] [No Email]
---
…….. in this man's life, when the easing of my work load just doesn't seem to work out, even with thoughts wrapped in kindnesses.

Well in part here is an explanation as to what has been going on up here on the farm the last few days.
It has been my lot to be working in some dust of one nature or anther for the last couple weeks. Thought the dry walling sanding dust was bad. But, that stuff did not even begin to hold a candle to what met me Sunday afternoon mowing 12 acres of sudex.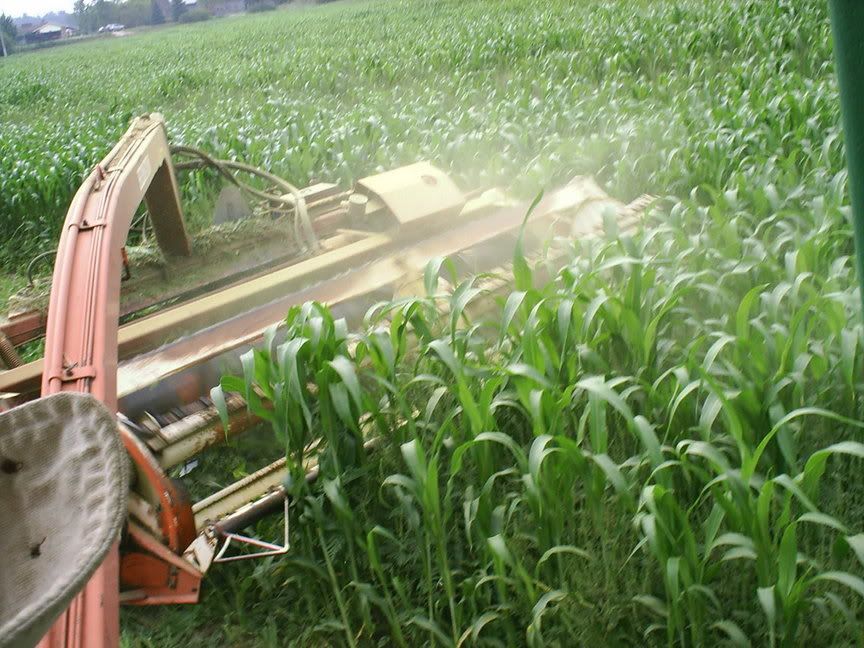 The yellow cloud rising out of the machinery is ragweed pollen. I got a full dose of this stuff with each northern side of the mowed round. The southern tail wind was one of them two handed breezes, to keep one's hat on.
Monday's Labor day celebration in the field wasn't to unlike Sunday. More pollen, though less savvier, clay dust having had to lower the pickup on the baler continued drying out the sinuses.
Anyway, this is what the sudex looks like when its baled.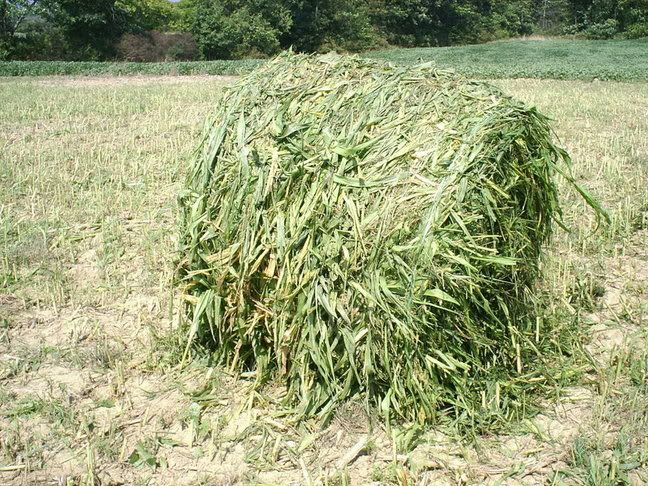 Rain and darkness curtailing our haying the other night we finished haying for the year around noon yesterday wrapping the last two bales for this season's efforts. Next couple days have to start managing to clean and paint some rusty implement surfaces. Clean and oil hay balers and ready for storing away readied to roll out baling in a new year.
Other unreported adventures I'll relate later. The hay fever has done a fair job of laying me down. `Have always suffered some hay fever each year. This time all the elements were just right for me to be caught harvesting a crop so timely infested and ripe for the weeds dirty work upon my nose. May take a couple more days, but I am feeling better with each passing hour. Dammed if those weren't a couple Hellish tractor rides. Give me a couple days healing, then I got to clean and paint some rusty machinery areas. Here I could go again with tempting some tender nasal passages.
Might better spend a couple days cutting wood??? Now there's an idear!!!!
I do believe my new schedule is about set.
That was yesterday
Today
Not going to try to remember what I did or didn't get done to day. Although, I did get a souvenir of sorts. Not having thought out what was on my mind, I spoke, "Ya might want to change your diet, dear?!" I had suggested, "I was just thinking if ya should loose a few pounds I'll take ya shopping for a couple new outfits before November's and December's holidays set in. Even with a handycrafter's sticker I couldn't even get us within walking distance of a door to door bus service, when the crazy shoppers come-out. So it has to be soon. Then maybe ya won't look uh… well,,,, umm… too…. so frumpy!" Well, that was last night.
This morning over coffee and breakfast over at the "choke`n'chuch" my SIL Dave also in temporary residence for something to eat, while his girl (my daughter) slept, asked me, "Why are ya wearing your cap so-lopsided, this morning?"
Lifting my cap, I pointed at my noggin, and said, "I got a frumping lumpy knot on my head for some reason last night. That's how come!!! And, don't ask!!!"
Fernan

Fern(Mi)
Posted 09-08-2004 at 17:28:36 [Reply] [No Email]
---
Believe it a Sudan grass and Sorgum cross. Sorry, I have forgotten: and, I'm not running out to find the seed bag. Regardless, the yield had not been as good as we had expected. But then because of a wet spring, working up the ground and planting was late.
This crop has been a real summer life savor during extremely dry years. Planted early enough and well rooted it has been known to handle stress well. Green chopped and fed fresh daily the cattle go nuts. Looking at them you would think they were drinking spring water.
This season our intent was to cut, bale and wrap for silage. Should be ready for feeding in ninety days. I like that nice round number. Beats remembering 88 days for the roughage to fully cycle its fermentation (not really but close) the correct term being pickling or whatever it does for those three months to make it safe fodder for the animals. Only bagged for a day, it is already smelling good. Wrapped and stored beside the haulage that whole feed lot's smells are something else.
Hope this helps answer some questions.
Fernan




toolman
Posted 09-08-2004 at 12:02:57 [Reply] [No Email]
---
well at least ya ain,t got muck, going out now to throw down some old hay around the barn , been so wet here i noticed the horses got greasy heel, started treating that last night, looks like we caught it in time , looked much better already this moring.calling for a whole lot more rain here the next few days, so more mud.