Posted 09-25-2004 at 17:08:22 [Reply] [No Email]
---
Wolfee is actually our daughter's dog. When she moved into an apartment in the city to be closer to work he stayed with us. She used to yell at him trying to make him mind her. I always told her that if she had to yell she wasn't in control.

I've taught him some hand signals, reinforced with voice commands, to do some simple things like come, sit, down, home, etc. I can do more with him with hand signals than she can by yelling at him.

Deadcarp this is a chance to get to know you. You went into the hospital about the same time as I found this site. Actually I think you sorta' disappeared and folks were wondering about you until they found you in the hospital. I kept thinking, "Just who is this DC character anyway?"

So many people were worried about you that I decided you must be some kind of OK guy that I'd like to get to know.

I'm in N. central Texas about 40 or so miles NW of Fort Worth in a rural community. I've only got 2.75 acres with, by actual count, 387 Black Jack Oak trees. Ya need any trees I'd be glad to send you some. We only have the dawg and one very black cat whose name is Lilly. Lilly is MY cat and is totally devoted to me. No other animals on the place as it's not fenced. Don't really have the time to care for other animals anyway.

A picture of Lilly in her favorite spot.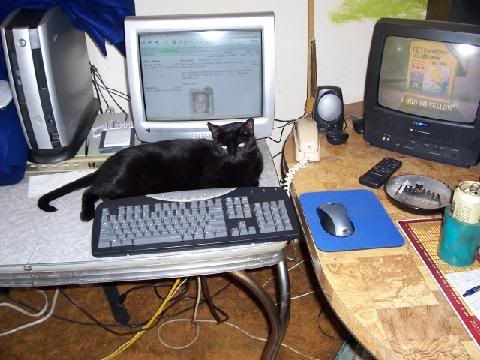 I hope your physical therapy is going good and that you'll be going home soon. Those "sausages" will respond again with time I'm sure. Just keep yer head up as well as your attitude and you'll do just great. I've noticed your healthy attitude in your posts and admire your sense of humor in trying times.