Fern(Mi)
Posted 11-27-2004 at 15:31:33 [Reply] [No Email]
---
…finds me doing the chores again. Keith's gone deer hunting again for the weekend. I sure do appreciate that kid's youth the way he can muck luck around the yards. Especially after he had done the morning chores the last three days. Moved hay as usual. Somebody's always out somewhere around here. Checked the ladies fences and they're in top working shape this morning.
To backtrack for a moment, last night was a nice surprising drive home. Well after dark approaching another car coming over the Butternut Creek bridge; unable to see beyond the oncoming vehicles head lights; in passing it I ran headlights, grill, hood and fenders headlong into a tree what had fallen between my rounding trip along this country road. Looking at the trucks front I had relatively lucked out. The tree had only marred up the rusty brown coat what was left of this vehicles tin.
Snow melting so fast under insistent rain, had figured I better wind up the downed open wire gates around here before they froze down. There's six of them including this one.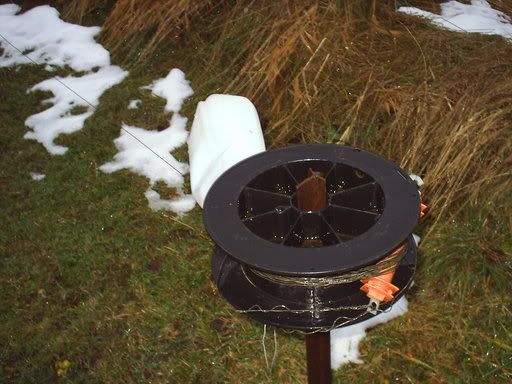 The pictures shows an electric gate wire rolled up on what some may recognize as a spent mig welding spool. The wire on it should be self explanatory. The red part is the gate closures insulated handle. The half gallon milk jug I have added to all electric access for gateway recognition, do to Power line personnel often crossing the farm to service a high voltage line bisecting the farm, and other's: sanctioned hunters, and helper-volunteers (or farmhands strange to the premises...

In my rounds I also spotted the upholstered seat cushion mistakenly left out/on the back hoe, something I haven't left out for the last six years. Picked it up and found it near as much heavier as having soaked up about a gallon of thawed snow. It'll take more than a few days for that seat to dry out even it doesn't freeze in the meantime.

More materials moved for another project between rain drops that had never let up. From there I gladly went on to do the evening's chores, and called it a day. Two best parts of day included sitting, feet up, soaking up the wood stoves warmth; and finding and editing an old story I had written for Frieda's anniversary some years ago. Perhaps I'll post it at that time her rubbing it in celebration.

So, friends that is about it for this down on the farm day.

Fernan