Fern(Mi)
Posted 01-18-2005 at 15:45:59 [Reply] [No Email]
---
WOW!!!! I got more out of folks remembering than I had anticipated.
But as I had promised Iíll add a mix of hodgepodge facts and my own childhood impressions and memories, as more or less correct as they may be?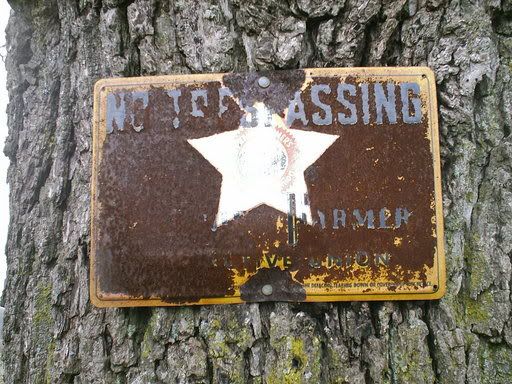 The posting of this sign somewhere near the homestead signified to others your where a serious farmer subscribing to the weekly Prairie Farmer newspaper. AND, good show New Gen. I had forgotten about the subscriberís name personalizing the sign. AND, Les, the end of open trespass was coming to an end by late mid to late forties. I remember dad having no trespass signs printed, something almost unheard of in those days and freely handed them out to all our neighbors clearly disgusted with weekend warrior a$$holes picking up dog pound mutts and turning them loose, cutting fences, on us to scare up game to shoot in every field and pasture. Then, getting back into their fancy cars leaving their unsheltered animals for us to deal with.
In those 40ís and 50ís days, I remember a Prairie Farmer representative coming around each Summer to sign us up and take our subscription payment for another year. He was not the only yearly visitor. Stopping by was the Fuller brush man, even carrying new brushes and belts for momís Electorlux vacuum. Service hey? Then there was the Raleigh man, The Watkins man; both of them peddling their home and yard products: Slaves, shampoos (how about that Tar Mange crap?), insecticides and pump-dispensers for spraying them for starters. Then there was our ďMr. HanneyĒ with an old stinking-smoking city bus loaded with notions of all kinds including cotton sack cloth, needles. Thread and a free needle thread starter gift. He carried pots and pans in the new aluminum and old iron standards. Heíd sharpen momís shears free or for a gratuity if she didnít buy something after she looked around. He carried stove pipe caps and dampers, a couple of barnyard forks, an axe or two, a couple different hammers, pliers and screwdrivers, odds and ends in wrenches, and farm cap-wear before the seed dealers were giving them away. He could re-supply our fist air kit (Who remembers to do that?). And, aspirin for momís headache he brought with him. Now, if I should think of anything else about those peddlers days, itíll most likely be another three days after I have written this. But, that is alright, Iím coming of that age a striped mental gear might prove unraveling my mortal fiber. And, I find stopping just in time saving an unforeseen broadside a good thing.
Then there was WLS Prairie Farmer radio programming so popular, Prairie Farmer became the principle stock holder in the new Agricultural Broadcasting Company (ABC) purchasing WLS (Worlds Largest Store) broadcasting licensee rights from Sears Roebuck. So Prairie Farmer had become more solidly headquartered in Chicago, Illinois through radio..
If I remember right each State had its own publication of extra local news inserts.
But then, that is the way more and more than this fuzzying mind has taken to working these cold 0* days.
Fernan

Bill WI
Posted 01-18-2005 at 18:11:03 [Reply] [Send Email]
---
Did a search on Yahoo and got Hoards Dairyman yet and referances to Wisconsin Agricultural, but no web site.We got both when farming, but I sold the cows 25 yrs ago. I looked at one awhile back in the library. Ralieghs and Watkins here talked more about other stuff and we always bought from them, Fuller brush always just pushed his brushes and we never bought from him--too high pressure. The grocery store had a guy running around with a little dairy delivery truck once a week in the country. If you wanted something he didn't have , he'd bring it next time. My mother didn't drive so it was good. Also had the "sheeny"(don't know what it meant, he was a little hardworking Jewish guy) once a year, that would buy rags and sell good brooms. He'd like scrap metal and old batteries too. Also if Dad stopped and looked at a car in town, there'd be 3 or 4 car salesman in the yard the next day -- How I don't know. You never went down to buy a car ,they just kept coming. This was mid 40's around here. I'm going to dig more in the barn and my memory for that sign. Now I'm thinking they were different but had the star. It was some kind of protective deal. This has been fun. Thanks. Bill




New-Gen
Posted 01-18-2005 at 17:02:00 [Reply] [No Email]
---
Ok Fern, reading this followup post brought back a few memories, gave me some new information and raised at least one question.

You're right about the different publications for different regions. Ours in Illinois was called Prairie Farmer, it seems to me that Indiana's was called the Indiana Prairie Farmer.
Was yours called Michigan Prairie Farmer?
Also, was the Hoard's Dairyman Wisconsin's
version of Prarie Farmer or was it a publication of it's own?

I'm not 100% sure about any of this info, so if I'm wrong somebody please correct me.
NG