Posted 01-28-2005 at 13:09:22 [Reply] [No Email]
---
Chatting a couple I-mails last night coming to me where a couple story ideas. If anyone should remember what I was rambling about, kindly remind me, as I fell asleep early without taking notes for this poor short termed memory individual...

Meanwhile, I am into cutting down on the smokes. Three cancer sticks day before yesterday. None, naught, zip for yesterday, I'm staying away from the crossroads, the choke and chuck, the gas station for the next few days avoiding the match booked sticking evils of tobacco smoke purchased and inhaled from variety's dispensers.

Colder here this morn than last, surprised pickup started easier. Our Spring heifers walking nicely beside me chores were easily gotten out of the way this morning. It's short trip time, around the block. Having ground the last of grain stores yesterday,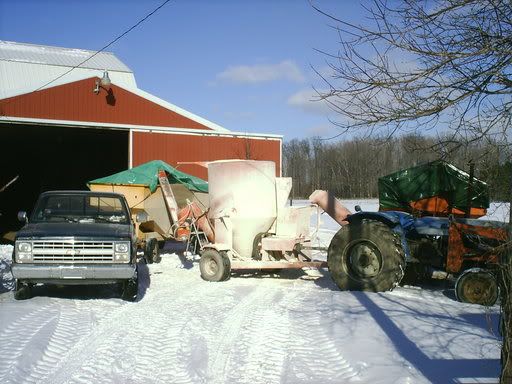 I drove over for more shelled corn finding the Syxguys grain storage facility's two elevators still broken in some manner and not working. Be Monday before one elevator's parts arrive. Going to have to cut back grain rations a few days to stretch them out. Total cut off and restart of grain could make for a tough shock on young calves digestive systems. The babies just brought in are on calf starter now.
No grain,
no feed gain.
I'm home again,
walking in
sounds of pain
over TV plain
wondered wife being slain?
Found her exercising
with Jack Lalanne!
This time, I looked the other way, keeping my thoughts and senses to myself, of scenes not prettily revealed/described. (grin)
Laying low, the phone calls start ringing in. "Where ya at?" "What ya doing?" "What ya done?" "What ya gonna do?" What I'm doing is answering the cussed phone. What is it, I'm the only character around this community with a life? I wonder am I one of a few what finds adventure in every day's living?
Hanged if I didn't get Frieda's shower curtains up. One bathroom where one can work it out while soaking ones feet and washing their hands at the same time. Standing bare footed in the indoor stock tank, she handed me three sets of curtains and rings. One vinyle flower covered for across the glass to assure her privacy, to defray shocking the neighbors, as well as keeping the window dry. Then two more for the stepping in-side: the inside one plastic swimming in fish to shed water, another for soft dressing the room in something cottony(?) soft white with dark blue boxes all over it.
All that curtain material takeing me way back to our first days together, My adjusting to sharing a life and space with a new wife. It didn't bother her a bit. Me, these curtains remind me of my stepping into Amazonian jungle everyday to hike and hack my way through dripping falls of nylon stocking snakes, Hand in hand combat with the snap biting bra-constrictors. Then trying to find fresh water puddling through the most unmentionable silk fanny trappers. All this female flouncey flirty shower rod's canopy covers dripping tropical rain and more rains for days and nights without end. That was only part of my indoctrination into married life. Oh how I have suffered….
Getting late on into afternoon, the evening chores are coming up. Got one wish before this day is through: and, that is, the weather warm up enough I may chisel out the stock tank's ice down by this barn for old times sake.
That is going to be it this day. So posting it early. And, that is getting a lot off my mind.
Good evening folks.
Fernan (Smiles)