Fern(Mi)
Posted 02-01-2005 at 11:57:53 [Reply] [No Email]
---
Late & Early Farm Report
This one started yesterday. Chores? Sure! Then what? Decided to mosey over to the Syxguyís farm and see how the elevator repairs were progressing. It was worse than I didnít want to admit. Both elevators out of action. One with a burned out (Iíd guess 14>16Ē) belt. removed repaired; this one had to be pulled back in. The second elevator had one of the buckets (car if it were in a building say) strip-out taking eleven more with it. On inspection, the whole apparatus, another one was missing and still one more broken.

Not one to hold back, I immediately offered to help, asking, ďWhere do you guys want me to stand out of the way?Ē That information request was short lived. When a one a inch rope got to be more than two men could handle I had too jump my two menís powerful equivalency into the rope pulling fray. I held it, our all pulling it together pulled that belted line of buckets to the elevatorís top and back down again. I must admit they would most likely have gotten the job done without me, but not near as colorfully.

Of course I had to explain the urgency for these repairs, needing the corn. Having had to cut back on ration outputs, three cows that very morning, while I was doing my rounds, had been given their (bovine) version of a one straightened vertical toe above a bent toe, international distressed bird sign. This signing, even though I was doing my encourage-able best to provide for them, I thought was totally irrespectfully unfounded.

Having saved the morning, lunch time closing fast my having an unedited good time, I reluctantly left. Lunch eatened, sillily asking if somebody wanted to go along for the ride, we got under way in time to keep my eye Docís appointment.

My eyes strength bouncing around higher and wider than the bouncing ball on an old drive in movie theaterís sing-along screen, I was told my sight had changed. Skipping the flashing pin lights, the puffing shocks of air to the pupils, we finally got right to it. The blind eye is improving. The good eye had been over prescribed. I should have fitting glasses in about a week. I hope. Iíve given up wearing what I got. Although in the meantime, Clipper has never looked better since. Honest Cajun!!!
________

New day. Started off with porchedÖ poochedÖ poached eggs on toast. I knew Iíd get it right sooner or later. Then it was checking the boards and the Fuzzyís abuse has continued on. Ohhhhh! The burdens I must bareÖ bear.

Having a lot to be done this day., the day didnít start smoothly. An upright neighbor three miles or so from me passed away a couple days ago I was to learn. I liked the gentleman. He had a lot of good stories to tell. He had once been our countyís road commissioner. Used to raise about eight steers a year for custom freezer beef orders on 17 tillable acres. I cut hay off this same acreage this past Summer it being the last first cutting I had done. He spent his last few years chauffeuring folks their last rides in a Cadillac to their final resting places. Iím going to miss him.

Pulling out of the driveway I saw I had lost another friend, more liking the horizontal varmint variety. I called her Violet and had planned on sending her to Texas to keep a certain armadillo company, if certain ~Lenore had ever given me her addy. Poor little girl, stepping down from the truck, I found her still breathing. Had even thought of putting her in a box beside Lesís kitchen stove. But, he isnít exactly living next store. Looking beyond the box, I opted instead of picking her up and laying aside the road in the freezing shade to allow her to painlessly sleep away her last moments in peace. Got to tell you, she was Hell on ant hills. Good looker too, right around her eyes she looked like her ma.

Getting on, the Syxguyís elevators were working this morning. Got my shelled corn. Weighed the load four time on Rogerís icy scales (cold influenced) four times before I was satisfied nobody was going to get cheated. An earlier trip by Rogerís I had picked up the supplements. I was near ready to look like I actually work. So it was some time around about I put the heat on the Leland and broke for lunch. Fixed the leak in the basement and found I had split the fitting inside the shower wall putting the showerhead pipes together. Bummer! Going to see my friend Ralph at the hardware store later, time permitting for a alternative compression fitting fix. I hates mud and doing things over! But, the upside, Iíll be enlisting another tool girlís help. (grin)

Lunch past, grain ground load ready for transport, I shall post this farm Report early. Would have liked to post pictures only the camera had immediately frozen right after I had taken Velvetís final picture.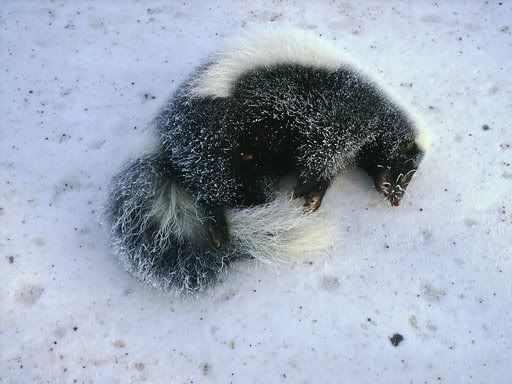 Her last impression upon the road out front will linger here the next few days
By all. Have a good evening.
Fuzzy Wuzzy