Posted 02-28-2005 at 15:51:45 [Reply] [No Email]
---
Clean crispy air filling my lungs exiting the house for the barnyard certainly was refreshing. Stepping into the barn was another revelation filling movement. For there in we had an over night visitor, and sure enough she wasnít the least bit happy with our captivating accommodations her haven vented some very sinus clearing odeís la phew all around the scene. For myself, I was spared the worst of her wrath on our face to face meeting. There she was, just as charming a little lady any ordinarily sane individual might better be blessed to avoid. But, this was a more personal matter between me and her. She was where I did not want her to be. So, bodily I picked her up and escorted her bagged and baggage out of this midnight hotel taking her to the outer fringes of the barnyard limits, there rattling her cage and showing her another avenue to take leading us each to enjoy a more individualistic blissful life.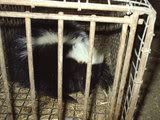 Head cleared, chores finished, It was shop time. Putting the finishing touches on the reassembled sump pump from last night, there rose a whole bunch of noise outside. Checking it out, it was the New old tractor being delivered. Satisfactorily driven to the shop, reversing it became a problem. It wouldnít move. By myself I went back to working on a second sump pump having repackaged the first, for later use. The second one thought fixed and failing a try, I took it apart again. Seems I have my fingers full trying to find away to remove a rusted in circuit board. When Brother shows, we use another Ollie to pull the first out of the way. Then it was to mysteriously shifting again.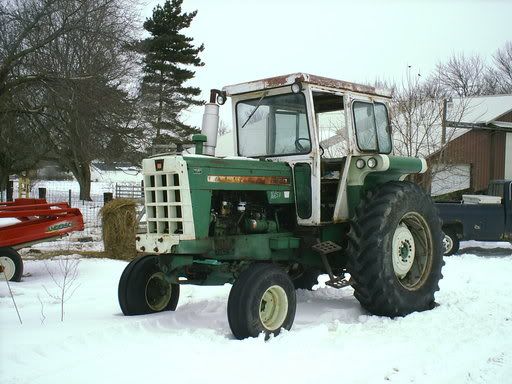 Meanwhile the JD radiator indeed was full of leaks. Needs a recoreing. Just fine! Canít put the new Ollie in the shop until we get the present JD out. Guess Iíll be looking at something else to do?
Then when it was getting onto lunch time Frieda calls to tell me my new specks came in, again! First thought coming to mind on hearing that news apprehensively had me anxious to go see what was wrong with them this time?
Lunch time out of way, I drove off over the back roads to check out my specks, again. Wearing them now, I havenít made up my mind if thereís any improvement. I doubt I look any better, but whether Iím seeing any clearer may well be a mystery for three/four days supposedly allowing me to become accustomed to them.
Things slow the rest of the afternoon I looked at the gas engine. The one parked under Clinkís table. Going to have to take to shop in morning, so as not to be dripping gas and oil on our hardwood floors. Thatís alright. I donít want to look like I donít know what Iím doing in front of the wife. I's got to maintain my hero image.
Thatís it for another day on this farm. Have a good evening and hope to chat again tomorrow. G-Nite.
Fernan