Country Talk Discussion Board
A Good Exercise Bike….
---
[ Expand ] [ View Follow Ups ] [ Post Followup ] [ Return to Forum ]
---
Posted by Fern(Mi) on January 25, 2005 at 06:32:08 from (152.163.100.68):
….never dies… I t just gradually fades away.
Over the years I have picked up four or more such mechanical animals for my Frieda's use, along the roads on trash day. Sitting right outside the backyard she's enjoyed watching the cows graze across the pastures liking one gigantic slow motion flower while she peddled her a… as… Well, peddled.
While there may be one or two left around here, the rest had succumbed to the elements: the sun drying out the seats, cracking them (I ain't saying nothing different), rain and wet rusting the chain and gear drives solid. These mechanical part's assemblies have contributed to other projects. One of them the 17 gage electric fence wire winder's ground driving wheel. The rubber handles have found use as protective ends to sharp or hard open ended pipes used in still more projects. A good chain has well served as a Gandy Box replacement driver. And an occasional metric nut has saved a many a hardware run.
AND, now that I am on this topic, I's thinking to take-up bike riding again this coming Spring & Summer. (grin)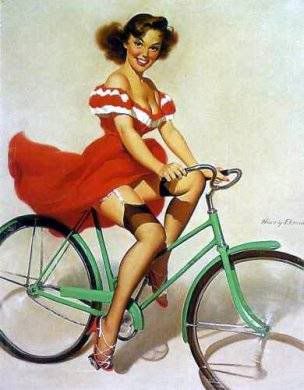 Awe yes, Just having some very pleasant thoughts bring smiles to my laughing eyes till.....
Fernan



---
---
---
---
[Home]
[Search]
Copyright © 1999-2013 KountryLife.com
All Rights Reserved
A Country Living Resource and Community